NEW ACTS ON BLUETUNES RECORDS!
Aliye
Syncron
Hanzo


WELCOME ON BOARD!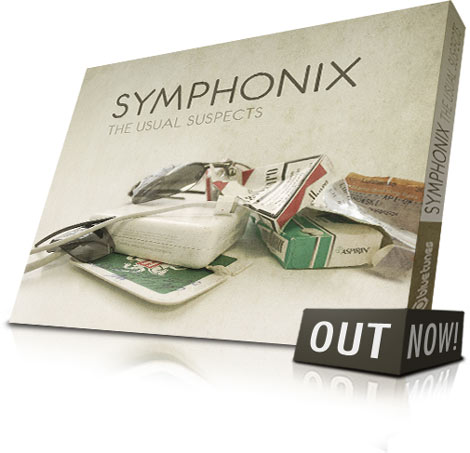 SYMPHONIX THE USUAL SUSPECTS - OUT NOW!
The Usual Suspects of top-notch Progressive Trance! The limits of Progressive Trance are pushed further and further every day. More and more often this results in interesting hybrid productions between various electronic music styles. Also the Symphonix brothers Sirko and Stephan Woetanowski take part in this musical evolution process, but they keep their rather experimental bits on the side for various other projects.
In the matter of Symphonix, they always strived to keep the original idea of Progressive Trance. And accordingly also the already third studio album of this project is solid, bouncy and distinctly psychedelic- but still modern and up-to-date as it can be. It is exactly this tightrope walk that is characteristic for the sound of Symphonix. Keeping up a clear Progressive Trance vibe and only slightly scratching recent trends and other genres, working in only subtle quotes from there to spice up the overall mixture and keep it fresh and exciting. That this recipe works out really excellent can be watched every weekend somewhere on this globe, when the two musical jacks of all trades present one of their positive, sunlit and uplifting live sets. So all together their new album meets all the characteristics to be beyond the usual suspects once again.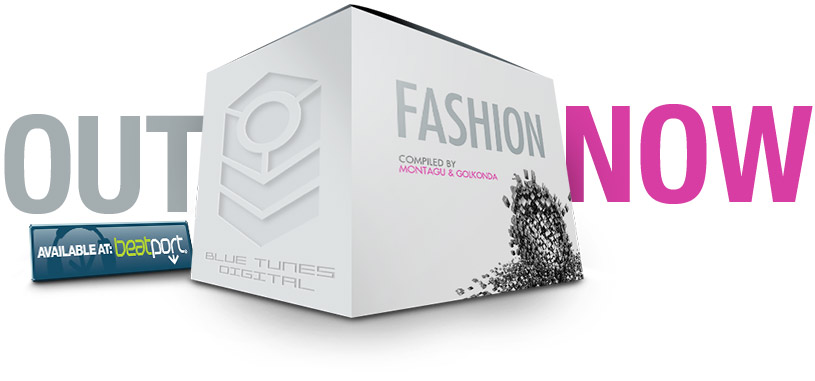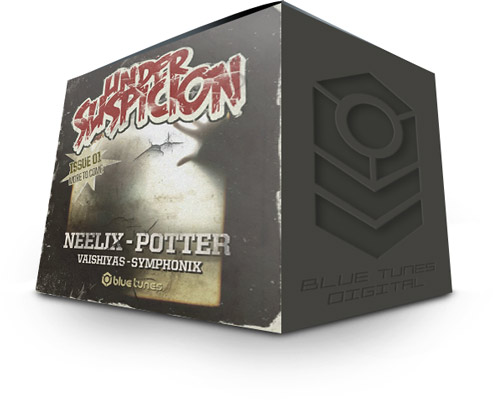 V/A UNDER SUSPICION EP - OUT NOW!
our impudently ass-kicking tracks have been heard recently at various events, but nobody could tell who circularized it. However, the quality of these tunes made some dudes from the Blue Tunes Records environment come Under Suspicion to be responsible and as turns out now, quite rightly! Neelix and Potter serve a dark and nasty Nu School production, a humorous break not only delivers a strong recognition, but also quite some hit factor. Also the second track by this duo represents a mighty portion of nightly pressure, creating the atmosphere of a weird science fiction strip. The Symphonix dudes combine their daring bass sounds and whipping percussions with light melody figures, clearly aiming the sunlit dance floors of the current open air season. Finally Vaishiyas placed his driving forces off-beat and created an extremely bouncy track in the true sense of the word!
Tracklisting
Neelix & Potter - Good Evening
Neelix & Potter - On The Run
Symphonix - Downtown
Vaishiyas - Stalker
SYMPHONIX REDESIGN EP- OUT NOW!
Tracklisting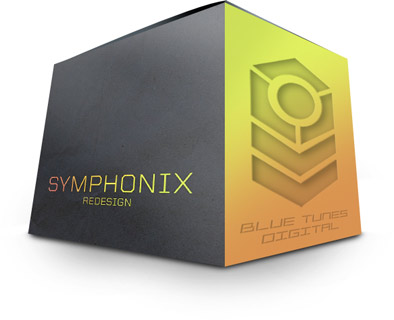 SYMPHONIX REDESIGN EP- OUT NOW!
Tracklisting
Resting Voltage (Vice Rmx)
Resting Voltage
Freq Box (Audiomatic Rmx)
Freq Box
Sweeping Up (Osher Rmx)
Sweeping Up


HALDOLIUM REPAINTED - OUT NOW!
It's been quiet around Haldolium lately. But it now turns out that it has been the quiet thata good wine needs to mature properly. Not that the style of Mario Reinsch and Mark Lorenzen from Hamburg has not been mature enough until now, just the opposite. They proved to be remarkable original and technicallyskilled already 10 years ago so that their productions from back then are considered to be beyond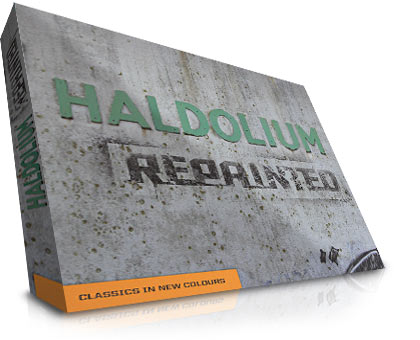 the important precursors of Progressive Trance today. Now they picked exactly those tracks which marked turning points in the musical development of the scene at the beginning of the 21st century and repainted it. As a result of long-year, intense scene observation and active shaping of contemporary Trance sound, the available album combines modern elegance and recent production standards with that hypnotically deep and unmistakable groany style which Haldolium became loved for so much. So on the one hand the 9 tracks on this release are classics, on the other they are up-to-date as they can be
Tracklisting
Be Real (Remake 2010)
Diabolika (Remake 2010)
The Peal (Remake 2010)
2ndMovement (Remake 2010)
Protek (Remake 2010)
Plusminus (Remake 2010)
E.B.M. (Remake 2010)
One of these days (Remake 2010)
Le ciel este triste (Remake 2010)

Buy @ Psyshp.com · Buy at Beatport.com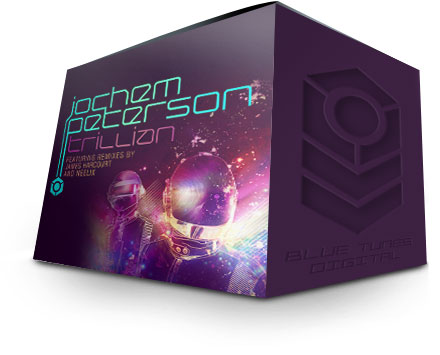 JOCHEM PETERSON TRILLIAN EP - OUT NOW!
Some new buds have sprouted from that exciting melting pod of Progressive Trance and contemporary Techno sounds and since they are specially coloured and beautiful, Blue Tunes Records just picked them. Jochem Peterson's Trillian crosses bridges between a techy, casual coolness and trancey depths.
James Harcourt reduces the hypnotic character of the original to an
efficient maximum of bang. Wild Silence turns out to be much more wild
than silent and scores with quite a smart, steadily rising built-up and
is finally turned into a lively, bouncing offbeat remix by Neelix.
Tracklisting
Jochem Peterson – Trillian (Original)
Jochem Peterson – Trillian (James Harcourt Remix)
Jochem Peterson & Tom Hill - Wild Silence (Original)
Jochem Peterson & Tom Hill - Wild Silence (Neelix Remix)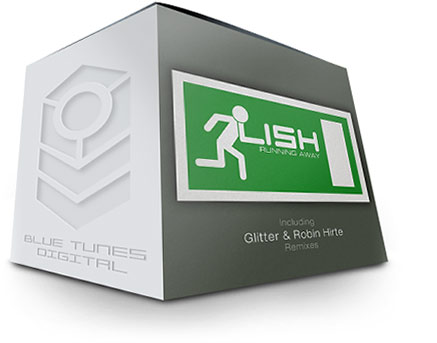 LISH RUNNING AWAY- OUT NOW!
Much longed for spring has finally arrived and perfectly matching this season,
also the available Running Away EP breathes new life into the Progressive scene:
Grandmaster Lish excellently does the splits between his well known, classical
sounds and inspiring Nu School quotes. His colleague Glitter orientates rather the
latter and serves his remix in an explosively funky manner, founded on a really
lewd bass line. Finally Robin Hirte gives the track just another spin that creates
nightly associations with its massively pumping lower section and a very
hypnotic arrangement.
Tracklisting
Lish – Running Away
Lish – Running Away (Glitter Remix)
Lish – Running Away (Robin Hirte Remix)
VA ROCK IT COMPILED BY SVEN SNUG- OUT NOW!
Did you realize that funny smell outside recently? And all that people walking around in front of your window? Well, it's finally open air season again! So hurry up and get your skirt, your shorts, your shades and some fluffy open air sounds, of course!
'Rock It' not only wears a pretty promising name in this respect but it really is the perfect soundtrack for some serious spring euphony: Sven Snug is just raring to go for his brand new album, accordingly he is loaded with energy and groove so that he was exactly the right person to compile this summer kick-off selection for Blue Tunes Records. Beside some fresh tracks from the alpine Progressive master himself, 'Rock It'includes some more delightful Swiss Progressive precision as well as various sunbathed and extra bouncy productions from international colleagues. The summer has just begun!
Tracklisting
KOPEL Nn Shuffle

SVEN SNUG Zerotonine

RITMO Music from heaven

RITREE Boomerang

NOK AND RITMO Multistop (Sven Snug rmx) live Edit

E-CLIP Cemetery Gates

FLEGMA AND NERSO Sonic Manipulation (Sven Snug rmx)

MIDIMAL Ironic Mistakes

OSHER Overview

NEW ACTS ON BLUETUNES RECORDS!
WELCOME ON BOARD GUYS!
VA SUNDAY COMPILED BY CREATOR - OUT NOW!!
Asking ten of your friends for the very best phase of a summer festival, there is
quite a good possibility that you will receive the same answer from most them: Sunday!

And of course there are many reasons why Sunday is so much special:
Everybody has become familiar with the venue and all the other party freaks
and everybody has become part of that certain mutual groove. Especially when
the name of this day of the week turns out to keep what it promises:
A shiny, sunny day. And last but not least, the music frequently is really
special on Sundays… While central Europe is still struggling with a really
cold though beautiful winter, mister Creator from Progressive hot spot
Switzerland sends out some first musical sunrays as a foretaste for
the upcoming outdoor season: Nine brand new tracks might really
produce somewhat similar to the euphoric hormone cocktail in your
head that comes along with spring. In consequence, it wont be
easy to keep you feet calm during this delicious Sunday meal…
Tracklisting
Vice - Within
NOK – Breaking Point
Midimal – Ages of History
Zyce - Puls
E-Clip - Krik
DJ Fabio & Tocix Universe – Feel Good
Haldolium – 2nd Movement 2010
Ace Ventura – Sao Paulo (Ritmo RMX)
Zyce & Egorythmia - Lithium
Bought a digital release and need a cover for the burned CD?
GET IT HERE

Get all Blue Tunes releases at